Recommended Training
It is important for Show-Me Response volunteers to receive emergency preparedness education and training in the Incident Command Structure (ICS), which is the management system used by responders during emergency response events. Show-Me Response recommends the following on-line training and educational resources:
IS 100, http://training.fema.gov/EMIWeb/IS/IS100B.asp
IS 200, http://training.fema.gov/EMIWeb/IS/IS200B.asp
IS 700, http://training.fema.gov/EMIWeb/IS/IS700A.asp
IS 800, http://training.fema.gov/EMIWeb/IS/IS800B.asp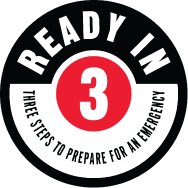 http://www.dhss.mo.gov/Ready_in_3/
The following recommended on-line training resources can be accessed through the Learning Management System (LMS) at www.heartlandcenters.com
United State's Health Insurance Privacy Accountability Act (HIPAA) course UNC 062 HIPAA
Public Health Orientation for Volunteers
Volunteers can browse for other relevant courses by typing in the keywords bioterrorism or emergency preparedness
On-line courses for disaster preparedness available through Heartland Centers:
Assisting Persons with Disabilities During An Emergency
Disaster Preparedness On-Line Certificate Program for Nurses - $25.00 fee
Alternative Standards of Care in a Disaster
Emergency Preparedness for Dentists
Incident Command for Physicians
Long-Term Care Facilities Emergency Preparedness Plans
Nurses on the Front Line: Preparing for and Responding to Emergencies and Disasters
Personal Preparedness
Special Needs Populations in Disaster Response
Pharmacist's Role in Disaster
Disaster Mental Health Planning
Introduction to Emergency Preparedness for All Nurses
Introduction to Mental Health and Disaster Preparedness
Psychological First Aid Competencies for Public Health Workers
Strategic National Stockpile
Unless otherwise noted, all courses are free. This on-line program is available through the Heartland Centers, Public Health and Community Capacity Development, St. Louis University, School of Public Health www.heartlandcenters.com
You will be asked to register on the site. Following registration, you can then view the course catalog and select the courses in which you would like to enroll
Periodically, the Learning Management System at Heartland Centers will give notice they have acquired Telehealth presentations for viewing. For February 2/10, they have Aftermath of Disaster (mental health), Initial Management of Serious Injury in the Critical Access Hospital, and Respiratory Protection.
Psychological First Aid is now available online through the Department of Mental Health and is recommended for all responders in an emergency. To sign up: